This documentary film "Living with cancer Words to inspire" will give you courage and strength.
Because of words in the film such as:
The most important things in life may be hiding in what we throw away.
Life may become hard. So be sure to enjoy the good parts.
Just being there, your life has value.
When you see this documentary film, You can meet with the words to inspire 100 percent! Join us.

Director: kazuyuki Nozawa
① Click "Registration procedure" from the top menu.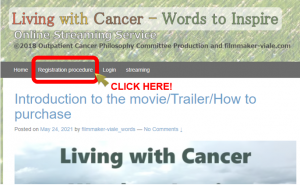 ---
② Set ID (email address) and PW according to the guide.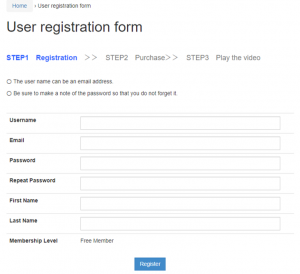 ---
③ Then, screen will change to the purchase session. please click the purchase button to complete the credit card payment.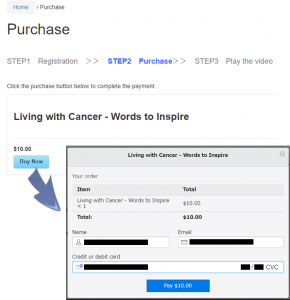 ---
④ After the purchase, you can view the movie from the "Streaming" page by logging in with the ID / PW registered in the upper menu "Login".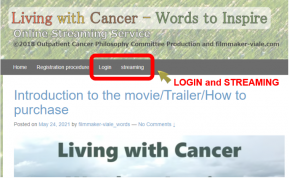 ---
You can watch it as many times as you like

for a month after purchase

.
Forwarding of ID and PW is prohibited.
Please watch it individually and
contact us for group viewing.
<Message from Director Nozawa>
After being first released in movie theaters in 2019, Words to Inspire is now available online. I believe you will find something that appeals to you in this movie no matter how many times you watch it. I like to think of Words to Inspire as offering "prescriptions" to cancer patients. But unlike a prescription for a drug that has an effect on the body, the prescriptions we offer in this movie are for the mind and soul. We sincerely hope you will find something here that pertains to your particular situation. As I have said many times, we live in an era in which almost 50% of the world's population will contract some form of cancer during their lives. In watching Words to Inspire, we would like you to be able to adjust your attitude toward this disease and strengthen your mind. You don't have to let your medical condition dictate your feelings and mental outlook.
<Introduction to the movie>
Dr. Okio Hino, professor emeritus of medicine at Juntendo University, has for several years been an advocate for the linking together of cancer medical science and philosophy into what he calls "outpatient cancer philosophy." People's interest in this new way of looking at and dealing with the disease led Dr. Hino to establish the Outpatient Cancer Philosophy Café. At these cafés, of which there are now close to 200 in Japan, cancer patients, their families, medical personnel, and others gather to talk about their experiences. People with worries and troubles find that others empathize with them, owing to everyone at the café having been touched in some way or other by the disease. The movie Words to Inspire follows the managers of four cafés, individuals who give encouragement and hope to those living with cancer and their families. We are confident that those who are worried about their illness will find valuable words to inspire them throughout the movie.
* Selected by the Ministry of Education, Culture, Sports, Science and Technology
* Recommended by the Ministry of Health, Labor, and Welfare
* 15th place, 2019 Kinema Junpo Best Film Awards, domestic cultural film category